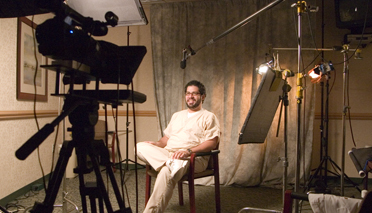 Imagination Unlimited specializes in video production.
We proudly stand behind our work and will strive to give you a video production of the highest quality. Our staff is well qualified and award winning. Our services range from small business to large-scale corporate video presentations. We do corporate, industrial, small business, event, convention, commercial trade show and almost any other type of video that you may need. Click Featured Videos below to see some of our work.


Concept Development
You have a video idea and it is our job to make that idea turn into a reality. At Imagination Unlimited we have the staff to turn any of your ideas in a video that will convey your message quickly and efficiently to your customers, employees or potential clients. Give us a call today and let us show you how to make your vision a reality.
Location Videography
When you're shooting video in the field you need to know that the footage is going to come back perfect each and every time. The Videographers at Imagination Unlimited know the importance of bringing back quality video and have been doing so for many years. Be it a corporate video shoot, conference, trade show or special event you can count on our staff of professionals to show your product or service in the best light.
Post Production
The editing process is where it all comes together. At Imagination Unlimited we have been producing Award Winning videos since 1988. Let us show you how we utilize the latest in post production technology to achieve amazing results. Don't leave the production of your next video to chance, go with a proven winner, Imagination Unlimited.
– Click here to see a list of our awards
Distribution / Duplication
So now you have a great looking video, what's next? Here at Imagination Unlimited, we do not leave you hanging once the production has been completed. Our staff is well versed in the varied media that is currently in the marketplace. Talk to your Imagination Unlimited producer today for recommendations on the best way to distribute your project.